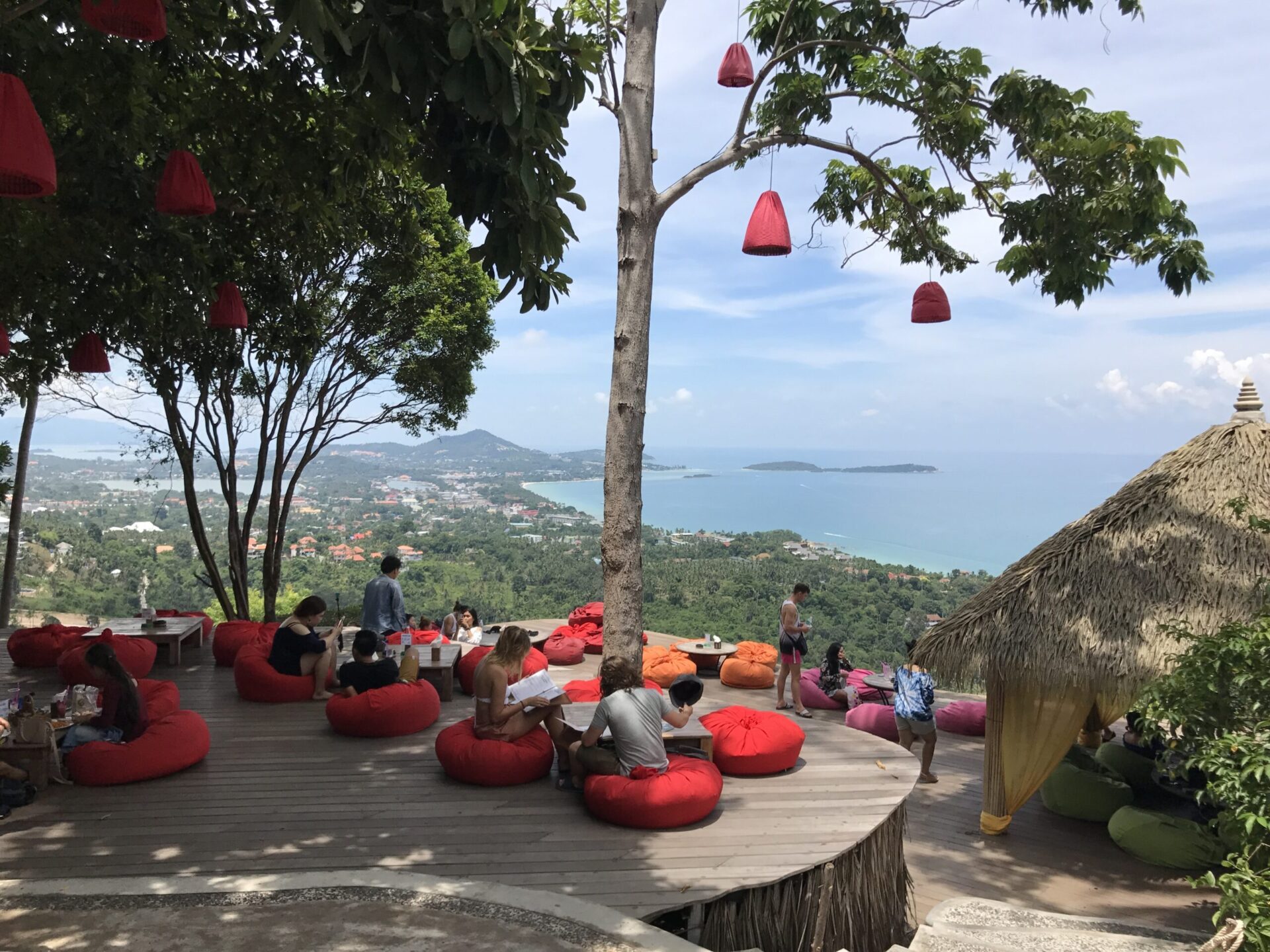 ******************************************************
Chaweng
12:45 Lunch@ Jungle Club
15:00 Chaweng Beach
19:00 Samui Festival
20:00 Stylish Thai Tapas Bar
21:30 Massage
******************************************************
12:20
Spent relaxing morning at the villa, and went out quite late.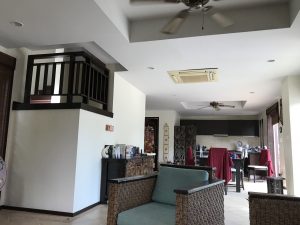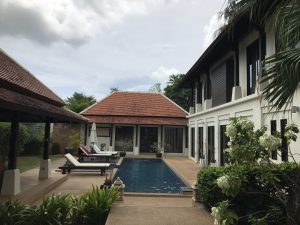 We took a taxi and headed to The Jungle Club at Chaweng for lunch.
The restaurant is located on the hill, and the driver told us she couldn't go up,
and we changed to the safari car Jungle Club offered.
The round trip costed 200 baht (6 USD).
It went through steep hill, and it was like an attraction at an amusement park.
12:50
Reached!
It is a restaurant inside the hotel, but you can enjoy even if you won't stay.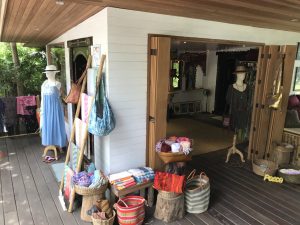 There is a pool at the right side, and..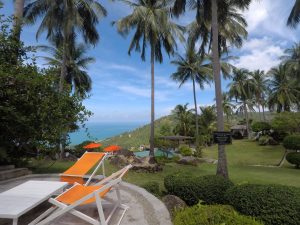 You will find the entrance of the restaurant soon.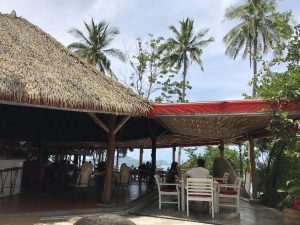 First, you will find stylish sofa, then..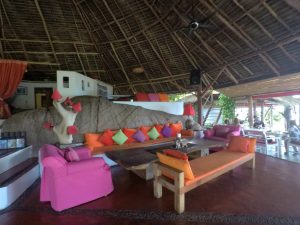 You will see the great view!
It is very open and relaxing.
If you are an Instagramer, you will enjoy a lot 🙂
They serve both Thai and Western food.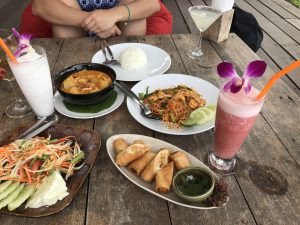 Hammock would be a great choice if you want to relax after enjoying your food.
Their safari car drove us to our hotel at Chaweng.
It costed 400 baht (12 USD) including going down the hill.
Today we stay at Mercure hotel.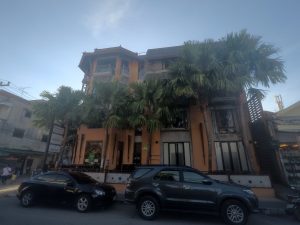 15:00
We dropped our luggage there, and headed to the beach.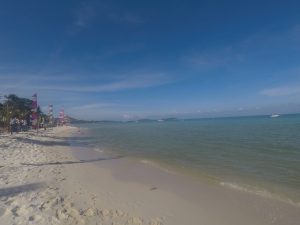 Well, we didn't know that luckily they have"Samui Festival" tonight.
So… they were busy with preparing, and the beach was not relaxing..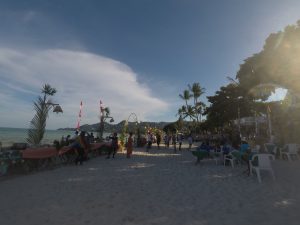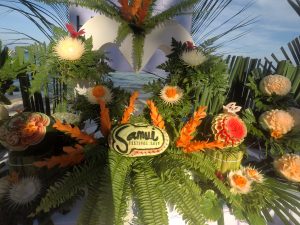 The water was warm, and shallow.
Later we tried the pool at our hotel, and went out for night beach.
We decided to take a look at Samui Festival.
19:00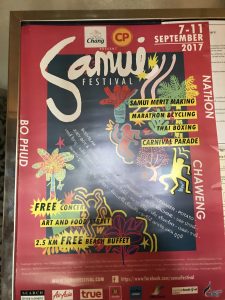 It seems that Samui Festival is for celebrating Koh Samui's 120th anniversary.
There are a lot of food stands along the beach.
We surprisingly found that the food there was all free!
The stands were offered by hotels and restaurants, and quality was really good.
As we came late (around 7 pm), the buffet was almost ending,
but we were satisfied with many kinds of Thai food (with no charge)!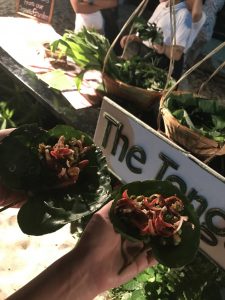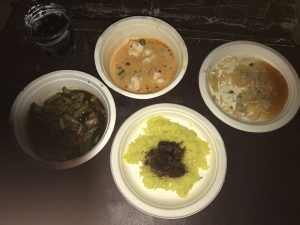 Later I found that it was 2.5km and set a Guinness World Record for the Largest Buffet.
Samui Festival 2017 sets Guinness World Record for largest buffet
As we were still a bit peckish, we were looking for some good place to eat, and found a stylish Thai Tapas bar.
It was a bar at Library hotel.
All the tapas cost 99 baht (3 USD).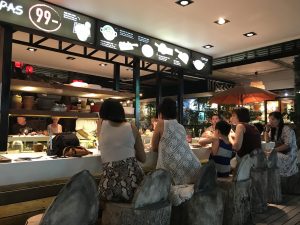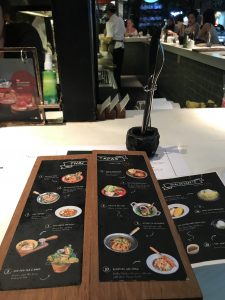 There are lots of dishes Instagram would love.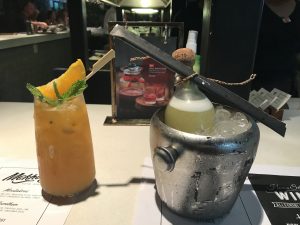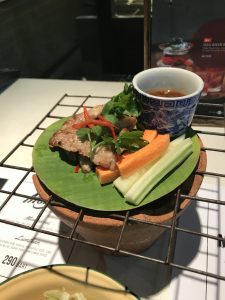 My flight tomorrow is at 4.30 pm.
We wondered if we could do anything and saw some tour agencies.
The regular tour comes back around 4 pm, and it was not so easy.
At the 3rd agency, we found that they provide private tour to Koh Mat Sum, and we decided.
The tour was amazing!
Please find the details at the next article 🙂
21:30
We had foot massage. Many shops provide foot massage with 200-250 baht (6 – 7.5 USD).
We were refreshed, and back to the hotel.