Dubai Transit : 29 November, 2015
As I had a business trip to India, needed to transit at Dubai, and had 7 hours between,
I decided to go sightseeing outside.
★City
Dubai
★Schedule
 5:00 Arrive in Dubai, UAE
 6:30 Jumeirah Mosque
 7:00 Breakfast@ One & Only Royal Mirage
 9:00 Burj Khalifa
10:00 Dubai Mall & Aquarium
13:00 Dubai International Airport
★Flight
Outbound :  2017/11/28 (Sat)
Tokyo NRT 22:00 – Dubai DXB 5:00 (+1)   (Emirates) (12 hours)
(→ Business trip to India)  Dubai DXB 15:10 –
---
I arrived in Dubai at 5 am, and straightly headed to Jumeirah Mosque.
I took a taxi, and ask the driver to wait for me to take pictures.
It was still completely dark.
And I asked the driver to take me to the 2nd destination: One & Only Royal Mirage.
I had searched on the internet and found that the breakfast there was very popular and famous among celebrities.
The hotel was gorgeous, and was very excited.
The breakfast was buffet style, and it was first time for me to try Arabian buffet.
You can also sit outside.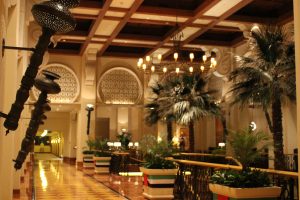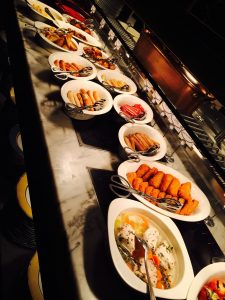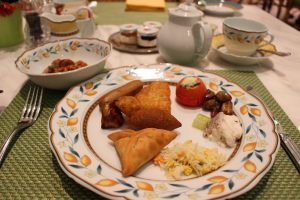 After the breakfast, I walked around the hotel.
I had booked tickets to 124 floor of Burj Khalifa at 9 am, I headed to Dubai Mall.
The tallest tower in the world!!!
And the sky didn't have any cloud and the contrast between the tower and the sky was beautiful.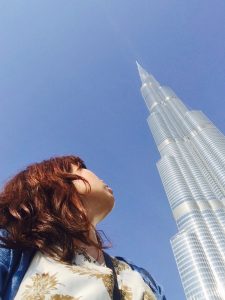 After that, I walked in Dubai Mall.
It was huge. I liked the celling with colorful umbrellas 🙂
I also went into the aquarium in the mall.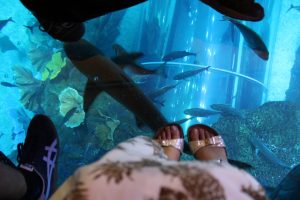 It is said that this aquarium used to be the biggest in the world (not any more, though).
It was a bit rush, but I was quite satisfied that I could see all these major spots in Dubai during transit!
If you have chance to transit at Dubai, you would enjoy it.