Dubai 3 : Abu Dhabi Day Trip
(Solo) day trip to Abu Dhabi from Dubai.
There are buses regularly and it is easy to go by yourself without any tour.
******************************************************
8:30      Ibn Battuta Bus Station
↓ 8:50 – 10:30 Bus E101 (1 hr 40 mins)
10:30    Reached Abu Dhabi
↓ Taxi (15 mins)
11:00 – 11:40 Palace Cappuccino@ Emirates Palace
↓ Taxi (20 mins)
12:00 – 13:00 Sheikh Zayed Grand Mosque
↓ Taxi (25 mins)
13:20 – 15:50 Ferrari World Abu Dhabi
↓ Taxi (1 hour)
17:00     Atlantis, the Palm (hotel @ Dubai)
19:00    Dubai International Airport
******************************************************
8:00
To the bus station from hotel (Atlantis, the Palm).
If you go to Abu Dhabi by taxi directly, it costs around 220Dh (60 USD), while bus costs only 35Dh (9.5 USD).
There are 2 bus stations you can use to Abu Dhabi: Al Ghubaida (E100) or Ibn Battuta (E101).
The former is closer to Dubai city, while the latter is closer to Abu Dhabi.
As my home, Atlantis, the Palm, was closer to Ibn Battuta, I chose that.
I took Uber to the bus station, but you can take train as the train station is just the next door.
8:30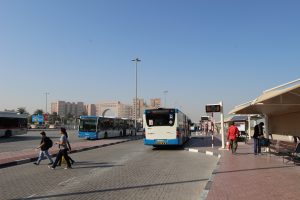 Buy the ticket at the counter, and wait in the line for E101 (to Abu Dhabi).
It seems that there are buses around every 30 minutes.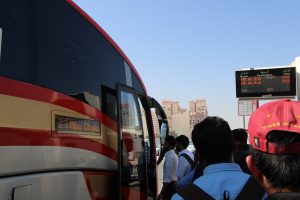 It showed the next bus was 9:00, but it left around 8:50.
The road was surrounded by desert.
10:30
After 1.5 hours, I arrived at the bus terminal at Abu Dhabi (the next to Al Wahda Mall).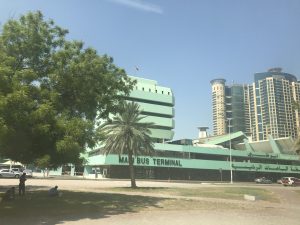 My miscalculation was that we could not use Uber in Abu Dhabi (as is Sep 2017).
It seems that there were their service there previously, but currently not. I didn't expect that because we used in Dubai…
As taxi only takes cash, I stopped by at ATM and take a taxi to Emirates Palace Hotel.
After 13 minutes ride, here I come.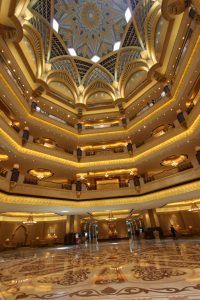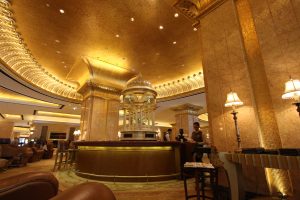 The inside was just "Gold".
I came here for Palace Cappuccino at Le Cafe.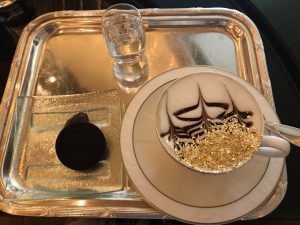 It cost 60Dh (16USD). It came with original chocolate and date.
The cappuccino tasted.. normal 🙂
I've heard that there used to have a vending machine selling gold, but not any more.
12:00
Took a taxi for the main purpose of this trip, Sheikh Zayed Grand Mosque. It took 18 minutes from Emirates Palace.
The mosque was built in 2007, and very new.
White building with flowers, gorgeous chandelier and carpets… It was just perfect!
Glad that I could visit here.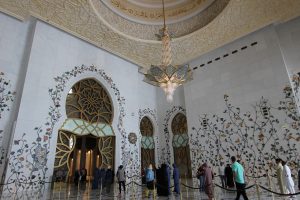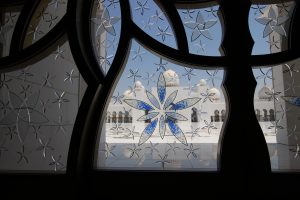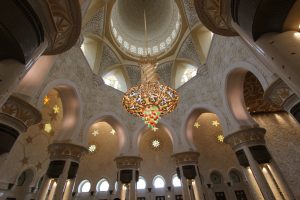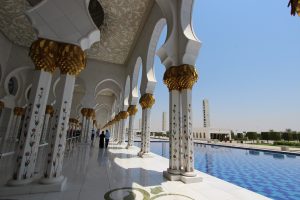 I stayed for 1 hour, and felt refreshed.
As I was wearing Abaya (rent for free), it was pretty hot…. though.
Then took a taxi for 20 minutes, to the next destination.
13:20
I reached Ferrari World Abu Dhabi at Yas Island.
I don't know much about Ferrari or Formula one actually… but as I am going to watch F1 in Singapore this month, I decided to visit there.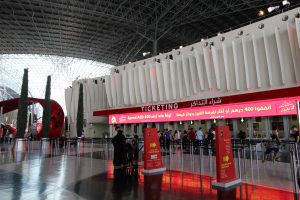 First, you need to buy a ticket.
There were 3 kinds: Bronze, Silver, Gold, but I chose Bronze, the cheapest one. It cost 275Dh (80 USD).
The expensive ones allow you to ride with priority.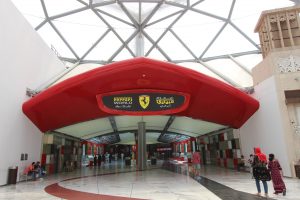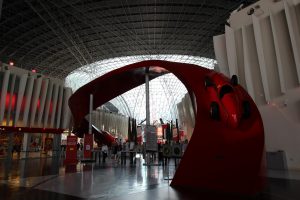 It was Sunday but was not crowded, so Bronze was the right choice I would say.
The one I thought I had to try was this.
"Formula Rossa", the world's fastest coaster!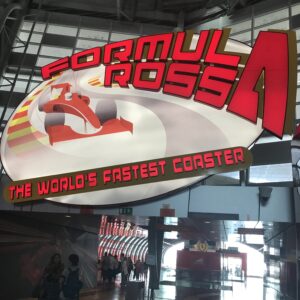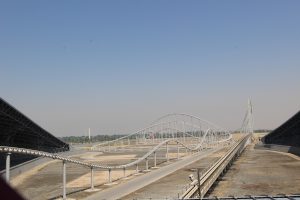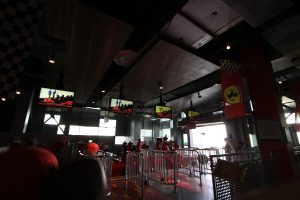 The maximum speed is 240km/h, and you have to wear protecting glasses.
To be honest, I am not a big fun of roller coasters, but I have to try if it is No.1 in the world.
The waiting time was only 10 minutes.
I was very nervous when I was sitting and waiting for the start.
But talking with the next person how nervous we were made me feel a bit easier.
It was accelerated rapidly, but after the acceleration at the beginning, it was not that scary and I could enjoy the ride.
I feel more scared by Tower of Terror at Tokyo Disney Sea.
Now I have tried the world's fastest ride, I don't have anything to be afraid 😀
After I was released by the nervousness, I realized that it was already past 2pm, and I was starving since I only had cappuccino since morning.
I had this pasta at the Italian restaurant inside the park. was good!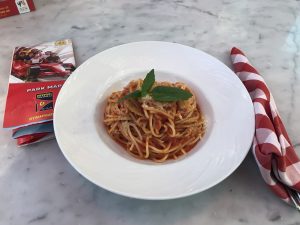 It seems that there are more than 40 attractions.
The below is Ferrari Go-Kart.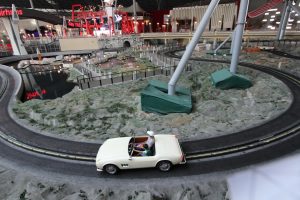 As my time was limited, I only tried 2 more rides.
Formula one simulator, "Scuderia Challenge".
You compete with 7 other participants. It is similar to Mario Kart, but the body moves linked with your handle and accelerator and feels more real.
I won the 3rd position at the race.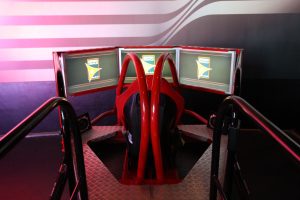 The last ride I tried was Driving with the Champion.
It wad like Star Wars attraction at Disneyland.
The story was that a F1 racer invite you to sit next to bim, and you experience how is it to sit in the race car.
I had to leave because of my flight at night, but you would be able to spend more because there are much more rides and you won't wait so much.
16:00
I left from Ferrari World.
Ferrari World is located closer to Dubai compared from Abu Dhabi city.
If I would choose bus to go back, I need to take a taxi for 30 minutes further from Dubai then have to take a bus for 2 hours.
If I take a taxi, it only takes 1 hour.
I chose a taxi which cost 196Dh (60 USD).
17:00
Came back to Atlantis, the Palm, Dubai.
Abu Dhabi is easy to visit from Dubai, and has a lot to see, so I would recommend to include your Dubai trip!
Now it is time to go back.
Lastly we tried monorail.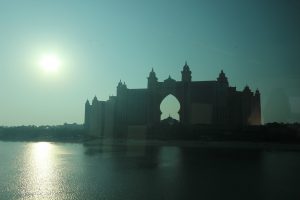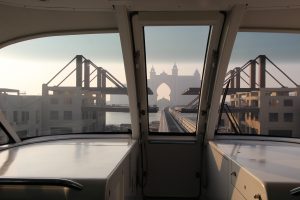 Currently they only had 3 stations, and the line was very short.
The rail station was not well-known, and it was hard to call uber.
I felt the monorail was not the must thing.
19:00
We reached Dubai International Airport Terminal 3. There were few choices to eat. It seemed that many were under construction.
There were lottaries.
People can win a car or a bike or etc.
If you win, they provide you with airplane ticket and high class hotel to receive the prize.
That is the thing Dubai would do 🙂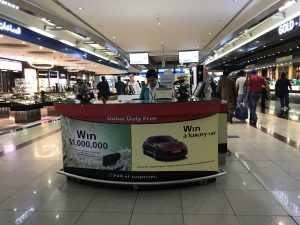 My Dubai and Abu Dhabi trip is over here 🙂