Dubai 1 : Bastakiya & Desert Safari
The first day of this Dubai trip.
******************************************************
10:00       Breakfast@ Arabian Tea House, Bastakiya
11:30 – 12:00 Walk around Bastakiya
12:00    Camel Steak@ Local House, Bastakiya
14:30 – 21:00 Dessert Safari
22:00 – 23:30 Fountain Show, Dubai Mall
******************************************************
For the first destination, we chose "Bastakiya".
Different from the gorgeous image of Dubai, there are traditional buildings left.
There are lots of cute cafes and restaurants, so it should be good place to go for girls.
We had Arabian breakfast at Arabian Tea House.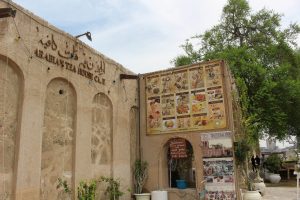 The restaurant is so pretty!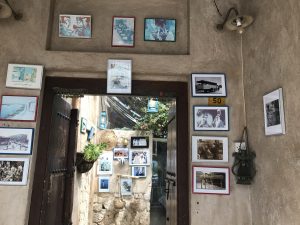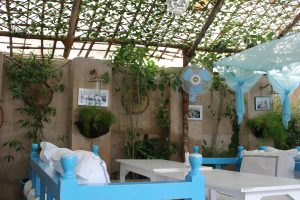 The staff told us 1 set should be enough for sharing with 2-3 people,
we three decided to order this 1 set, and add some bread.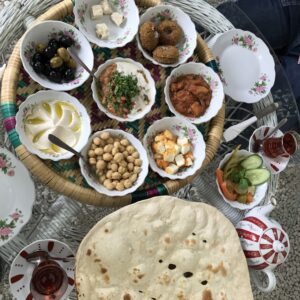 This set was 60 Dh (18 USD).
Especially Hummus was really good 🙂
Then, we walked around.
There are a few cafes with art gallery inside.
We went inside one of them: Al Serkal Cultural Foundation.
I wanted to take a look at the shop inside, but unfortunately it was closed on that day.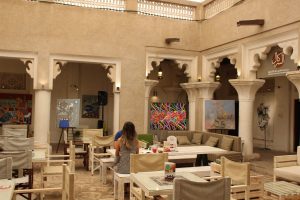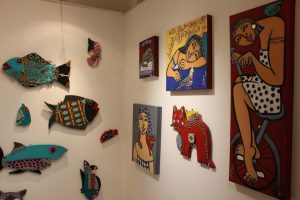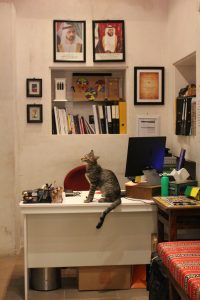 Around this area, there are some wall arts, so they can be nice photo spots.
The temperature was around 40 degrees.
The entire district is white, and very hot because of the reflected heat…
It is hard to walk around for a long time.
We were not that hungry, but had small lunch.
We decided to try camel steak at Local House, next to the restaurant we went in the morning.
The menu was quite impressive.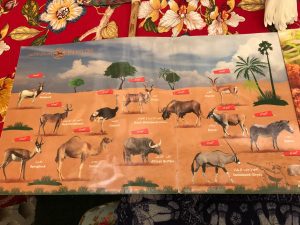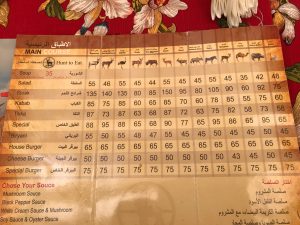 You can choose from many kinds of meat.
I wanted to try more, but my stomach allowed camel steak only this time.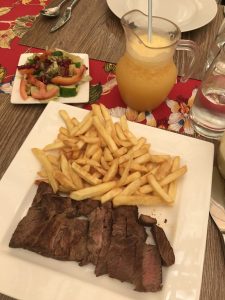 お肉はさっぱりしてて、意外にも牛に近い感じでした。
Uberで一旦ホテルに帰り、デザートサファリの迎えを待ちます。
今回利用したツアーはこちら。
4WD砂漠サファリ+ベリーダンスを鑑賞しながらアラブ風ビュッフェディナー!!
(Cox & Kings Tours LLC)
US$ 52/ person
日本語ではなく、英語ガイドのツアーを選ぶと、お得です。
ホテルに14:30-15:00の間でピックアップと言われていましたが、14:30ぴったりにはガイドさんが来てくれました。
私たちともう一組の計5名1台で砂漠に向かいます。
コンテンツはこんな感じ。
砂丘ドライブ
らくだファーム
夕日観賞
砂漠キャンプ(らくだ乗り、バギー、サンドボード、ヘナ、水タバコなどを体験できます)
夕飯ビュッフェ
ダンスショー
21時に終わり、そこからホテルまで送ってもらいます。
中国やペルーで砂漠で体験をしているので、正直あまり変わらないかなぁ..と。
他と比べて、ドバイの砂漠ドライブはとっても安全運転でした。他はもっとスピード出してジェットコースターみたいだったなー。
ホテルの代わりに私たちはドバイモールのそばで降ろしてもらい、
噴水ショーを観ました。Mission in Possible!
ドバイモールを少しふらふらして、ホテルへ
ドバイモールのピックアップポイントでUber呼んだら、ドライバーさん迷ったみたいで中々来ず
分かりやすい噴水エリアのPickup Pointを選んだ方がよさそうでした。