Bhutan 2 : Bhutanese Cooking & Tashichho Dzong
******************************************************
09:30 Bhutanese Textile
10:30 Bhutanese Cooking
12:30 Bhutan Textile Museum
14:00 Market
14:30 Watch Archery
16:00 Walk around Thimphu
17:30 Tashichho Dzong
19:15 Dinner
20:30 Hotel Pedling
******************************************************
After breakfast we headed to a local house.
There we tried Bhutanese textile.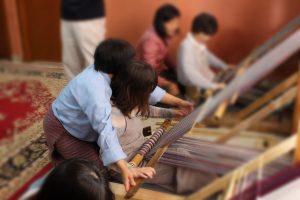 It took more power than I thought, and I assumed it requires concentration and physical strength.
The guide explained that in Bhutan, it is only for women, and men won't do it.
Then, we tried Bhutanese food cooking.
Before that, they served us butter tea.
They put salt and butter in the tea, and mixed vigorously.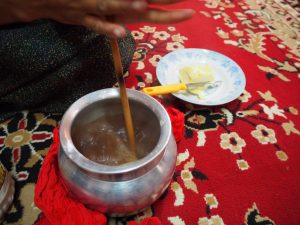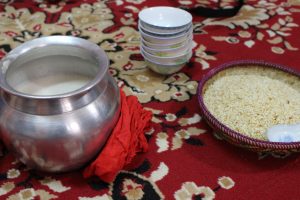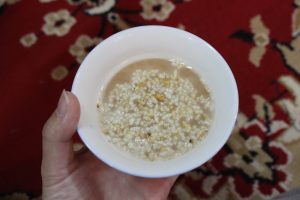 To be honest, it was quite heavy because of the oil from butter…
Then, we started to cook finally!
1.  Ema Datshi (Chilli Cheese)
Firstly, they brought..
a lot of chillies!
We didn't use knives, but our own hands only.
Add some tomatoes…
(Tomatoes looks so little compared to the chillies.. haha)
Add cheese in it and heat.
After the cheese melted, done! And it looked amazing 🙂

2. Paksha Sikkam (Dried Pork Fat Meat and White Radish)
Cut dried pork fat.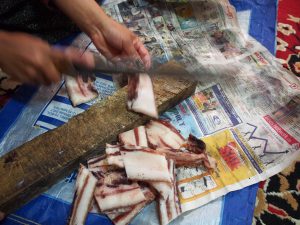 Put them in the pot with radish.
Add chilli powder and stir.
Add salt and chillies (as usual) and done!
This tasted mild.
3. Kewa Datshi
Boil potatoes, cheese, butter and a bit chillies.
It was not spicy.
4. Eze
They brought chillies AGAIN!
Chillies, tomatoes, cheese and coriander♡
Add salt, oil and Japanese pepper, and mix.
The combination was perfect!
I would like to try by myself once I get back.
So here they are!
Let's eat with red rice.
In retrospect, they all used similar vegetables…
Anyway, I could experience how Bhutanese food use a lot of chillies and cheese.
Perhaps because we cooked by ourselves, but I felt this was the most spicy and delicious dish I had in Bhutan!
If you like spicy, you would love Bhutanese food.
However, some other participants gave up eating because they were too spicy. So be careful if you are not a fun of it.
In Bhutan, they drink alcohol after meal.
I couldn't because I am very lightweight.
They said they don't have the custom to eat dessert.
That would be good because food is spicy, though.
Then, we stopped by at Bhutan Textile Museum.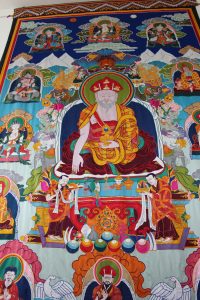 And, visited local market.
There, of course… we could see THEM a lot!!!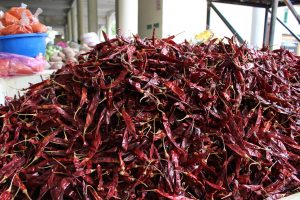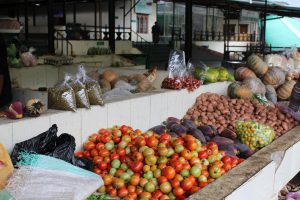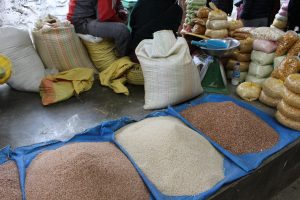 We also watched archery game.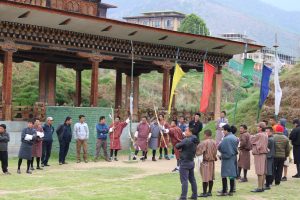 And went to see the huge buddha, Kuensel Phodrang.
It seemed to be new and was still under construction.
We walked around Thimphu city later, where I bought nice stalls.
In the evening, we visited Tashichho Dzong.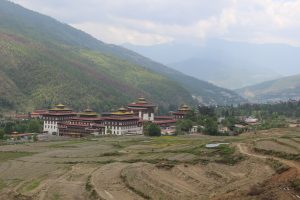 There are both the king's office and temple, and it is a very noble place.
They use Bhutanese traditional way of building.
At night, the tour brought us to the popular local restaurant, and we enjoyed the food.