Bhutan 1 : Kichu Lhakang & Thimphu
******************************************************
Kichu Lhakang & Thimphu
(The day before)
22:00 Leaving from Singapore
—————-
00:30 Arrived in Bangkok
01:30 Rest at Golden Tulip Sovereign Hotel Bangkok
04:00 Headed for Airport
06:50 Bangkok → Bhutan (Druk Air)
10:10 Arrived in Paro, Bhutan
11:20 Kichu Lhakang
15:00 Reached Thimphu
15:30 Tried Kira
17:15 Memorial Chorten
18:00 Hotel Pedling
******************************************************
I left from Singapore last night, and arrived in Bangkok, Thailand past midnight.
Met up with my friend from Japan, and rest there.
But soon I needed to leave for airport to catch the next flight.
10:10
We flew by Druk Air.
The flight stopped by Kolkata for an hour, and brought us to Paro International Airport in Bhutan.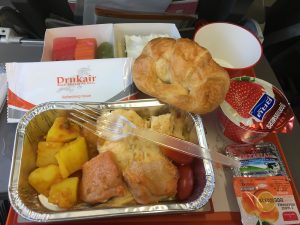 The airport building was traditional Bhutanese, which made me feel I really came here!
Compared to Singapore, it was dry and felt so nice.
We met up with the guide, driver and other 4 participants from Japan outside airport.
We stopped by at the view point, where we could see the whole airport.
Then, we headed to the first sightseeing spot, Kichu Lhakang.
11:20
This is the entrance of Kichu Lhakang.
It is the oldest temple in Bhutan, which was built in 7th century.
In Bhutan, same as the other Tibetan Buddhism area, we can often find this 5 colored flags.
There is sutra on them, and people wish Buddhism spirit would spread away on the wind.
I became a fun of this Bhutanese retro colorfulness.
There were a lot of dogs in Bhutan.
It was said that volunteers give all of them antirabies serum injections, so the dogs there are safe.
I also tried one of the Bhutanese sports, Archery.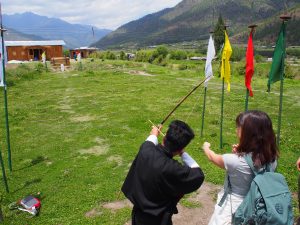 Then, the first Bhutanese food, finally!
I tried Ema Datshi for the first time. (2nd picture)
Ema Datshi is made from chilli and cheese.
First, you would taste the mellowness of cheese, followed by spiceness of chilli.
It was quite hot, but went really well with rice and I loved it!
Later, we headed for Thimphu, the capital of Bhutan.
It took around 2 hours.
Thimphu city ↓
We checked in at Hotel Pedling, where we stayed for 2 nights.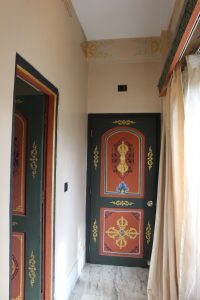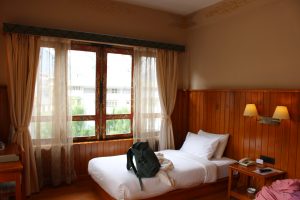 Then, we went to see Bhutanese traditional cloths, "Gho" for men and "Kira" for women.
You could see that the people regularly wear them.
As they were quite heavy, I didn't get mine.
After that, we visited Memorial Chorten, which was walking distance from the central.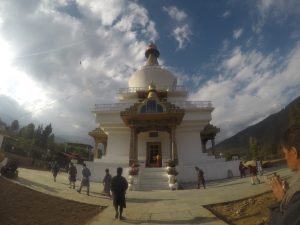 We had dinner at our hotel.
Compared to lunch, we didn't have very spicy dish.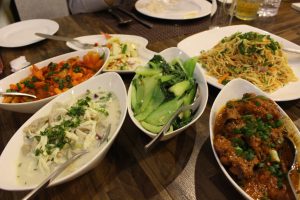 Since we have became comfortable with other tour participants,
we enjoyed the food and conversation!